Make a reservation:
1-800-669-3568
HOURS:
Saturday & Sunday from 7:30-10:30am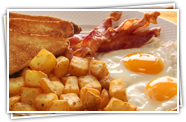 Breakfast is served Saturdays and Sundays only, from 7:30 to 10:30am. We will take Breakfast Reservations up until 10:00 am and Walk-in Guests up until 10:30 am.
Breakfast is not served on Easter or Mother's Day. We will begin seating for Dinner at 11:00am on those days.
Not served Easter or Mother's Day
Sizzlin' bacon, homefries, made-to-order omelets, grilled stickies and more.
CLICK HERE FOR COUPON and get free hot beverages for each adult selecting our Breakfast Smorgasbord.
Smorgasbord Breakfast Menu
Fresh pineapple, grapes and strawberries
Grapefruit and orange sections
Honeydew melon and cantaloupe
Farm fresh eggs, made to order (egg substitutes available)
Custom made omelets prepared before your eyes
Fresh country sausage
Bacon and pan-fried scrapple
Grilled ham
Fried potatoes
Oatmeal, cream of wheat and cold cereals
Blueberry or buttermilk pancakes
French toast
Creamed chipped dry beef
Assorted pastries
Raisin bread
Grilled sticky buns
menu subject to change
Beverages purchased separately:
Hot Beverages: Fresh brewed coffee, Hot tea, Hot chocolate, Milk, Chocolate milk
Juices: Apple, orange, grapefruit, and cranberry juices
In addition to our Breakfast, be sure to check out our award-winning Smorgasbord for lunch and dinner. Hours, menus, offers, prices subject to change.